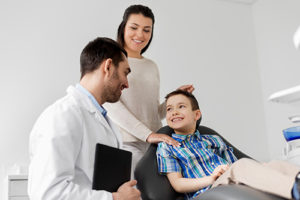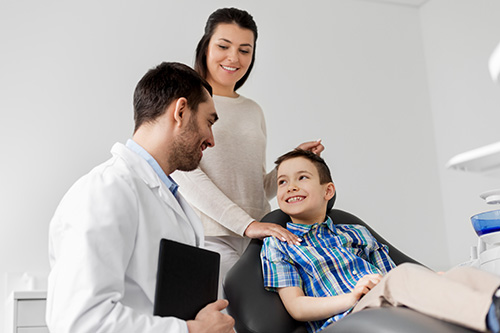 Your child's oral health is just as important as their physical and mental development. While it is well known many children do not enjoy visiting the dentist, the family dentistry at Lovett Dental Kohrville helps make every dental appointment as comfortable and enjoyable as possible. In fact, many of our pediatric patients are excited to come back and see us again. The earlier you begin bringing your child to our dental office, the sooner they can become comfortable with the dentist and look forward to their regular dental cleanings.
At Lovett Dental Kohrville, we're committed to the health and welfare of all of our patients, whether they're 9, 49, or 99. Our family dentistry office is proud to provide a range of exemplary dental services. Our team understands the dental health problems that children face and we strive to provide care to them in an environment that feels warm and welcoming. Protect your family's dental health today by calling Lovett Dental Kohrville today at 832-843-6776 or use our convenient online form to schedule your first appointment.
A Family Dentist Ensures Proper Oral Development
Just as you make regular appointments with pediatric care physicians to ensure your child is developing normally, your child needs to visit a family dental practice to ensure their oral development is normal as well. As your child ages, their jaw and teeth are still developing. Some children will develop underbites, overbites, and/or crooked teeth. Others may not develop any oral conditions at all. Regardless, it is important for your child to regularly see a certified pediatric dentist to ensure there are no underlying conditions that are not visible to the naked eye. These regular visits set your child up for a lifetime of success and confidence, so it is important to begin family dentistry services early and catch any issues as they arise.
Comprehensive Family Dentistry Services
Comprehensive family dentistry services provide parents peace of mind that their child's oral health is where it should be for their child's age group. If anything is abnormal or raises cause for concern during a regular check-up, the issue can be swiftly addressed to protect the child's oral health. Aside from just a regular dental cleaning, other dentistry services offered at Lovett Dental Kohrville include:
Tooth decay and defect treatment
Gum disease management
Habit counseling (i.e., thumb-sucking)
The sooner your child begins regular visits to our team, the earlier we can identify or correct any oral conditions. Any cavities or tooth decay can be caught early on, requiring simple filling rather than more extensive treatment options (i.e. crowns, root canals, etc.). Additionally, regular visits for family dentistry services help teach your child important oral health habits. From brushing their teeth every morning and evening to flossing and not sucking or biting their fingers, your child learns lifelong habits that will keep their oral health strong even after they leave home.
The Local Family Dentistry You Can Trust
Hundreds of families trust our dentists every year for our high-quality care and extensive expertise. Our pediatric patients love visiting our dentist's office because they know they will see their same dentist each time. At Lovett Dental Kohrville, we create a warm, welcoming environment. This environment keeps any fears or anxiety your child may be experiencing at ease. Our dentists and their assistants are full of smiles, joy, and laughter during every appointment. Furthermore, parents know they can always rely on our emergency dental services should their child have an accident. If your little one has an accident and needs dental care fast, we will get you into our office. You can then work with one of our qualified dentists as quickly as possible.
Contact Lovett Dental Kohrville
Family dentistry services are an excellent option for keeping the teeth of everyone in your family healthy. Regardless of your age, you and your family deserve to have beautiful, healthy smiles. Our team offers a range of treatment options to ensure that your family gets the care that they need. In addition to our general family dentistry services, we also offer a range of cosmetic and specialty dentistry options, such as:
Get the pediatric dental care that your children need using our exceptional dental services. Lovett Dental Kohrville is proud to offer flexible appointment scheduling and same-day visit for dental emergencies. We are open early in the morning, late in the evening, and even on Saturdays. Whatever your dental care your family needs, we can provide. We can make sure that you and your family have the beautiful, healthy smiles you love to display. So do not hesitate to call us at 832-843-6776 or contact us now to schedule a family dentistry appointment that fits your schedule.