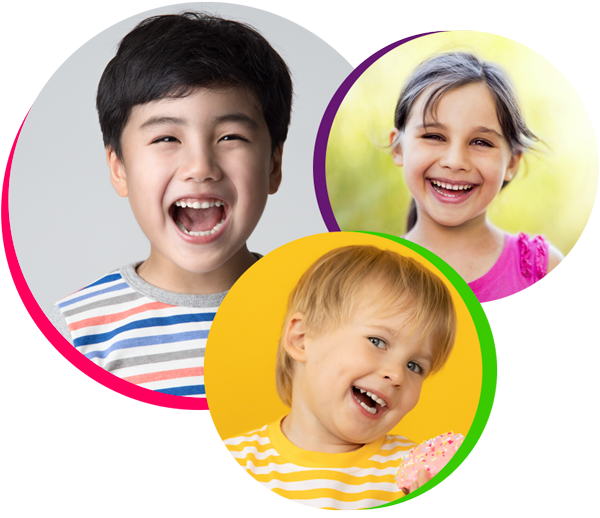 Pediatric Dentistry
Many parents remain unaware of their options for pediatric dentistry near Houston, Texas. In fact, a general dentist is not your only choice for your children's dental care. Our family dental practice offers some of the most qualified dentists for your child's changing oral health needs. With so many stages between birth and adulthood, a pediatric dentist knows more about oral growth and development than other types of dental providers.
According to the American Association of Pediatric Dentistry, there are over 6,000 member pediatric dentists who practice in the United States. Some of those care for patients at Lovett Dental Kohrville. They work alongside other types of dental specialists as part of one multidisciplinary practice, including:
Orthodontists

Periodontists

Maxillofacial surgeons

Endodontists

Family dentists
Pediatric Dentistry for Healthy Smiles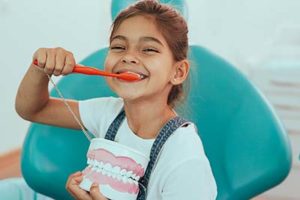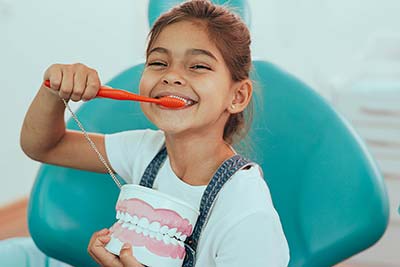 Children present a special challenge for many dental practices. That is why many dentists don't offer services to children. Children often show more fear than adults at first. Additionally, they don't always understand why they are in the office, and they require a great deal of patience. Effective pediatric dentistry at Lovett Dental Kohrville requires an understanding of children. We welcome children of all ages. Our friendly, patient staff understands that what happens at this young age can set the mood for dental visits for the rest of your child's life. Our children's dentist has undergone specialized training beyond a dental degree in order to give the best experience possible. 
Start Healthy Habits Early
As a family dentist, we know that the earlier a child is introduced to healthy dental habits, the better their overall dental health will be throughout life. Even infants benefit from parents gently cleaning their gums throughout the day. Many parents think that since baby teeth eventually fall out, there isn't the same urgency to seek pediatric dentistry. However, our patients understand it is important. Starting young offers many benefits, including:
Familiarity with the dentist

Establish early habits

Correct any abnormalities early

Create stronger teeth and gums

Educate families to reduce fear
For more information about starting healthy habits early, reach out to Lovett Dental Kohrville today.
What Services Do Children Require?
When they seek children's dentistry, the search causes patients to ask what kind of services a child might need, besides cleaning or an occasional filling. One of the biggest emergency services we provide is when a child has fallen or suffered a sports injury and a tooth is cracked or missing. If a baby tooth gets knocked out, a place-saver can be used so that the adult tooth grows in the correct spot and the other teeth do not shift. For adult teeth, there is the possibility of a crown to make sure all the other teeth stay in place.
Braces and other cosmetic procedures are other services of pediatric dentistry. Houston, Texas is a place of big, bright smiles and those smiles start with good dental care from the start.
How to Prepare a Child for Pediatric Dentistry
Nobody in pediatric dentistry can guarantee your child will enthusiastically enter our office, sit nicely for an exam, and leave completely cheerful. What we can do is help you find ways to make the experience less stressful for both you and your child. For our part, we will do everything possible to make things go quickly and with as little upset as possible. Try these steps:
Prepare in advance

 — Show your child pictures of the office, read books on dental visits, and explain some of the procedures your child might experience. Familiarity helps reduce fear.

Be honest

 — There is bound to be some discomfort involved in the visit, especially if your child is facing a filling or other procedure involving a shot. Don't tell the child it won't hurt, but be willing to help them find ways to make it hurt less, such as counting or closing their eyes.

Be there

 — It is scary enough to go to the dentist but even more so if the adult you count on to keep you safe stays in the office while you go into the back with a stranger. Be willing to stay with your child throughout the visit.

Make it an adventure

 — Pediatric dentistry at Lovett Dental Kohrville can be part of a day's adventure. Visit the dentist and plan for something special afterward, such as a movie or lunch at a special place. Give your child something to look forward to.
For more information about how you can settle your child's mind about an upcoming dentist's appointment, please reach out to Lovett Dental Kohrville today. 
Learn More About Pediatric Dentistry at Lovett Dental Kohrville 
If you are looking for pediatric dentistry, you can't go wrong with Lovett Dental Kohrville. We offer a wide array of services for adults and children, including:
For more information about our services, contact us today. Call 832-843-6776 today to learn more.