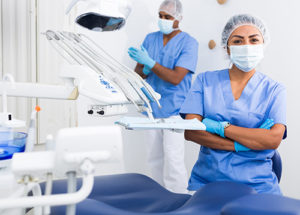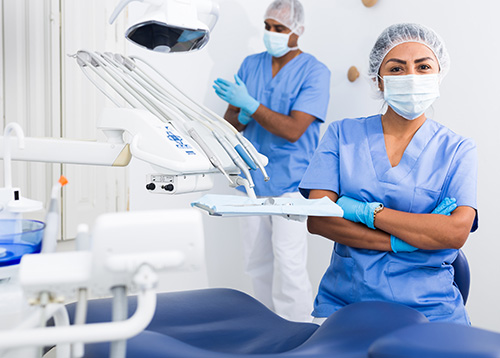 Are you looking for a facility that offers quality in their dental services? The dentists at Lovett Dental Kohrville are here for your dental care. To learn more about our specialty dental services, contact us today at 832-843-6776. 
Specialty Dentistry at Lovett Dental Kohrville
Some dentist's offices only offer general dental services, such as dental cleanings or exams. They may refer you to other specialists, which can be extremely inconvenient, especially for those who are parents of small children or busy businesspeople. We offer a variety of specialty dental services at our offices. Our specialist services include:
Keep reading for more information about each of our specialist services.
Dental Implants
Dental implants are an alternative to having missing teeth. These implants are a great and long-lasting solution to teeth that are missing or broken. We can put in two different types of implants, snap-on overdentures or hybrid fixed dentures.
Gum Issues
Our periodontics department handles gum issues. Our periodontists are highly qualified and can help with gum related issued, such as:
Crown lengthening

Dental implants

Scaling and root planing

Bone graft

Regenerative procedures

Ridge augmentations

Tissue grafting

Gum recession

Osseous surgery
Please come in for an appointment if you are in need of gum-related relief.
Root Canals
Root canals are handled by our endodontists. They treat dental problems with tooth blood vessels and nerves. Our endodontists treat root issues, such as:
Endodontic surgery

Treatment and diagnosis of dental pain

Vital pulp therapies

Root canals

Traumatic dental injury treatment

Root canal retreatment

Internal bleaching

Treating cracked teeth
It's important to regularly schedule dental appointments. If you do not get a root canal as soon as you need it, the infection can spread to the teeth surrounding it.
Extractions
Our oral surgeons can perform tooth extractions. A tooth extraction is usually a last resort when all other methods have been tried, such as root canals, dental fillings, and apicoectomies. Patients who do not take care of their teeth may need some teeth to be extracted. Other reasons for tooth extractions include:
Dental crowding

Gum or tooth infections

Tooth decay

Broken or cracked teeth from injuries

Loose teeth from jaw bone deterioration
Ideally, you should never need a tooth extraction. Your dentist at Lovett Dental Kohrville may try other treatment options before recommending a tooth extraction.
Children's Dentistry
Our pediatrics department specializes in children's dentistry. One of the best ways to practice healthy dental habits is by starting young and by taking your children to the dentist on a regular basis. We treat the oral health needs of infants, children to adolescence, and children with special health care needs.
Braces
If you or your child are in need of braces, our orthodontists can help. It is recommended that children see an orthodontist around the age of 7 to determine if they need braces. Braces help to slowly move teeth into their correct place in the mouth. Braces can help with crowding teeth, an open bite, a crossbite, misplaced midline, spacing, underbite, or overbite. 
Sedation and Dental Anxiety
Children and adults may get anxious about going to the dentist. Our sedation dentistry can help relieve anxiety about seeing a dentist, as well as helping with a bad gag reflex, sensitive teeth, and patients with a low pain threshold. We offer several options for sedation, like oral sedation, nitrous oxide, also known as laughing gas, and IV sedation. Our sedation services provide you with a positive experience.
Learn More About Dental Specialist Services at Lovett Dental Kohrville
Lovett Dental Kohrville is a multidisciplinary dentistry office, offering six forms of specialty care. We offer specialty care in:
We also offer a variety of dental services, including:
Make an appointment at your earliest convenience so that you can take advantage of our specialist services. You can visit us at Lovett Dental Kohrville by visiting our dentist's office in the Houston area.  You can also make an appointment over the phone by calling us at 832-843-6776, or by contacting us online.